Dieser Beitrag ist auch verfügbar auf: Deutsch (German) English 繁體中文 (Chinese (Traditional)) Čeština (Czech) Slovenčina (Slovak)
Do you want to maximise your profitability with Kaufland Global Marketplace? Then you're in the right place! In this blog article we will present an established 5-step approach that uses data-based insights to help you build a thriving business on the Kaufland marketplaces. The approach is based on best practices from the fastest growing customers of FiveX, a high-performing SaaS tool that acts as a central point of contact for marketplace data. FiveX allows you to optimise your sales strategy and achieve outstanding results. Learn more about this formula for success now!
Step 1:
Analyse profitability figures: To start building your success, analyse the profitability of your products. Rank your products from the most profitable to those that are less profitable and focus on optimising the top performers first. By focusing on the most profitable products, you can build a solid foundation for your business.
Step 2:
Keep your inventory up to date:  To ensure long-lasting success on the Kaufland marketplaces, it is crucial that your products are always in stock. Selling out of an item will not only result in lost sales, but will also cause you to lose the top ranking you have worked hard to achieve. Prioritise products with high stock levels or stock that can be easily replenished to maintain your position and provide customers with a seamless shopping experience. By continuously monitoring and replenishing your inventory, you build trust, meet customer needs and achieve long-term success with Kaufland Global Marketplace.
Step 3:
Examine returns: Analyse the reasons why your profitable products with good stock levels are being returned. Reasons for returned items provide valuable insights that you can use to optimise your product list or make product modifications.
Step 4:
Improve product ranking: Optimising your product titles is an effective way to improve your ranking on the Kaufland marketplaces. Use precise and relevant keywords. You can also use keywords related to special events to increase visibility, for example during special occasions (e.g. Valentine's Day gift). By researching similar products, you can gain valuable insights to optimise your keywords.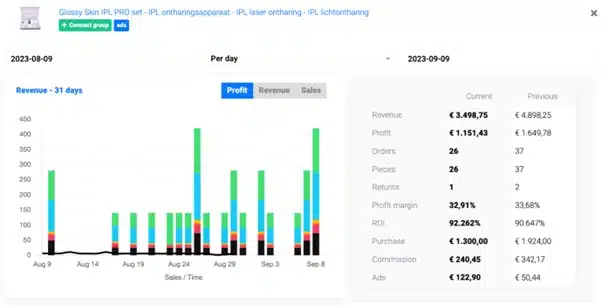 Step 5:
Sponsored Product Ads for increased visibility: Once you have implemented the previous steps and your products are optimised, it's time to improve visibility. With Sponsored Product Ads, you can effectively increase the visibility of your offers and generate sales. By using this sales strategy, you can kick-start your sales and pave the way for long-term success.
Conclusion:
By implementing this data-based 5-step approach, your sales activities with Kaufland Global Marketplace can skyrocket. Remember to stay focused and implement these steps using FiveX, the SaaS tool that serves as your central point of contact for marketplace data. With FiveX, you can gain valuable insights and make informed decisions to optimise your sales strategy.
If you have any questions or would like to learn more about using data to drive marketplace growth, please contact Jesse at jesse@fivex.com. Start your journey towards profitability today!