Dieser Beitrag ist auch verfügbar auf: Deutsch (German) English 繁體中文 (Chinese (Traditional))
The e-commerce market in Central Europe* has grown rapidly over the past two years. A sales increase of 28 percent was recorded. What was the reason for this? Consumers were increasingly shopping online, many for the first time. As a result, the number of online shoppers rose by around 9 percent in the same period.
Due to the corona pandemic and subsequent shop closures, many customers in Central Europe, as in many other countries, turned to online shopping. Sellers have quickly positioned themselves in online business to expand their reach – which is particularly easy to do via marketplaces and requires very little effort. This further accelerated the already positive development of online selling in countries such as the Czech Republic and Slovakia.
Plenty of room for growth in the Czech Republic and Slovakia
Central Europe is a growth market with promising prospects for online platforms. This is because the marketplace world in this region is less developed than in Western European countries.
However, against the backdrop of the increasing revenue share of marketplaces in the Czech and Slovak e-commerce market and the growing interest in online selling, there is great growth potential for platforms – to the extent that they are being positioned as key drivers of the market. The increase in Internet usage also makes these countries an attractive target for national and international sellers who want to tap into new customer groups and increase their sales.
This follows the global trend: according to the recent study "The Marketplace World 2022" ("Die Marktplatzwelt 2022") by gominga and ecom Consulting, more than 40 percent of global e-commerce revenues will be generated by online marketplaces by 2024. In the DACH region, a highly fragmented market, the predicted sales trend is even more striking: in the same period, the marketplace share is expected to increase from its current 38 percent to 52 percent.
In terms of visitor numbers, Kaufland.de is among the top 15 European marketplaces. Due to the enormous brand awareness and the strong response to the expansion into the Czech Republic and Slovakia, firm establishment in the market and continuous growth are predicted.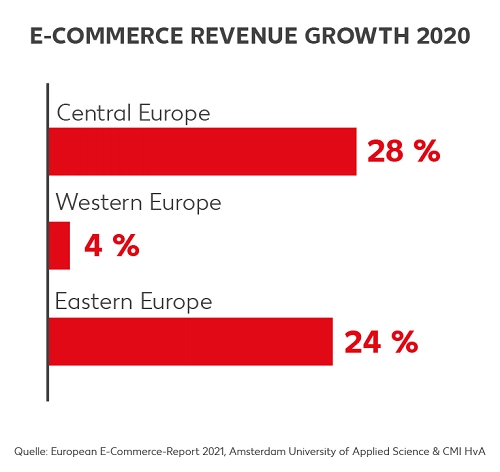 Czech Republic and Slovakia – two marketplace countries that complement each other perfectly
The Czech and Slovak e-commerce markets go hand-in-hand in many areas. Ecosystems such as logistics and fulfilment, software and service offerings, and corporate partnerships are closely intertwined. But the language and shopping habits of consumers also make these markets an ideal match: Czechs fully understand their southern neighbours and vice versa; moreover, electronics & media, fashion, toys, and hobbies & DIY are among the segments with the highest e-commerce sales in both countries. Because of this accessibility, Czech consumers like to buy at Slovakian online shops and Slovakian customers like to buy at Czech ones.
Yet cross-border shopping goes beyond neighbourhood limits and is becoming increasingly popular in both countries: 44 percent of Slovaks and 31 percent of Czechs were already buying from sellers from other EU or non-EU countries in 2020 – preferably in Germany. According to the aforementioned study, however, the seven countries Slovakia, the Czech Republic, Romania, Bulgaria, Hungary, Croatia and Greece account for only seven noteworthy cross-border marketplaces that are considered to have market dominance. By contrast, there are at least 13 top cross-border players in Germany alone, including Kaufland.de.
Starting off internationally with Kaufland Global Marketplace
Kaufland.de is one of the fastest growing marketplaces in Germany. As part of the Schwarz Group, Kaufland is one of the world's leading retail companies. While 100 new marketplaces were launched in the DACH region in the last two years, 30 disappeared from the scene in the same period. As a contrast, the platform behind Kaufland.de held its own and further expanded its services for customers and sellers. With the expansion into Central Europe in 2023, the marketplace will benefit from the great trust placed in the Kaufland brand by Czech and Slovakian consumers. This, in turn, benefits future marketplace sellers.
Brand manufacturers and sellers who want to sell on marketplaces can expect a market in the Czech Republic and Slovakia that is not very fragmented and remains uncluttered. That's why now is the right time to establish your own marketplace presence in these countries with Kaufland Global Marketplace, and thus secure long-term competitive advantages.
Sellers who sign up early for the new marketplaces will benefit from an early bird offer.  They sell on Kaufland.cz and Kaufland.sk for the first six months without a basic fee and without sales commissions. In addition, they will receive a personal Sponsored Product Ads credit at the launch of the new marketplaces, which they can use to highlight and promote their offers on the platforms.
*In this document, the following countries were included in Central Europe: Hungary / Slovakia / Czech Republic / Romania / Bulgaria / Croatia / Poland